Topic:
The Kama Sutra, the most important love doctrine of Sanskrit literature, can also be for same-sex couples a rich source of exciting findings: Behavior that has become entrenched is left behind to bring sexual togetherness to a new bloom.
As Tantra can also be called "sexual yoga", so describe the love positions of Kama Sutra Yoga postures in sexuality. We want to learn these in a fun way in this workshop.
This Workshop will bring your self-confidence into a healthy balance and let you experience for yourself that sexuality can be playful, simple and a source of great joy and creativity in your life.
*Open-minded singles and couples are cordially invite to join! Individuals, guys that are dating or best bud/FBs, married couples, every partner status is welcome!
For centuries Tantra has been considered to be THE path to connect the sexual, intimate and spiritual experience. The Kama Sutra is an "add-on" to Tantra which inspires and makes learning fun.
When you join me for Gay Kamsutra:
You'll experience the trust, camaraderie and connection of a really "good" – e.g. warm, nice, upscale, respectful, friendly, sexy and loving – bunch of men who come from different locations…
You'll learn valuable new techniques and experience new ways to share immense erotic pleasure, excitement and create deep connections for yourself and your sexual partner… techniques that you'll take home and share with others for years to come…
You'll fully relax and decompress throughout the workshop's weekend format, and return home with a fresh perspective and renewed outlook on your sexuality and life in general!
Course and contents:
Body awareness, movement and connection help you to get in contact with yourself and other men.
Active and calm meditations help you to let go of your everyday life to arrive within yourself, in order to be open for a sponateous connection.
Movement sequences from yoga increase mobility, smoothness and loveability of your body.
Love positions of the Kamasutra will be shown and practiced in different sequences both in the active as well as in the receptive role. You will have time with your partner after the end of a session to practice in your way for deeper intimacy and connection.
Movement and dance, touch and massage, breathing and expression exercises loosen up the full program.
Silence, meditation, conversation and exchange further compliment the workshop and give an outlook on how the experience will be further cultivated and can be intensified.
This workshop is therefore suitable for you:
If you want to experiment with the topics of 'Kama Sutra' and 'Tantra'.
If you are looking for new inspirations and energy for your sexual life.
If you feel like you are a man full of delight and creativity in your sexual expression.
If you want to be loving and pleasurable with your partner.
If you're looking for new ways to make your love life more varied, creative and exciting.
Our GAY-TANTRA workshop with Armin Heining was great! It was the perfect workshop to help my fiancé and I reconnect and grow deeper in our relationship. The other participants were friendly and had a wide range of ages. We connected with another couple quickly and really enjoyed our time with them during our workshop. The group exercises and meditations were helpful to connect with everyone and we had time for just my fiancé and I to connect as well. I'd highly recommend Armin's workshops as he caters to couples and singles alike in a fun group environment.
21 years ago, my husband and I attended several GAY-TANTRA workshops. We liked these so much that we also joined your "Biggest Tantra Energy-Sex Program". During this training we became a couple! Eventually I moved in with him and together we built a house and married!In GAY-TANTRA we have our roots. I still love my husband like on the first day. Nevertheless, after 21 years, we now connected at your introductory workshop on a new level: My heart for my Husband has opened again, as if we had just got to know each other! The meditations, exercises and rituals have helped us get to this place! It was also nice for me again to go into the self-experience, to feel myself stronger again.Thank you!"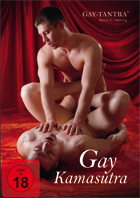 Preparatory and Accompanying Media:
First-time participants will receive upon registration the GAY-TANTRA Film "Gay Kamasutra" and several other bonus material as download for free (value about EUR 30). So you can prepare yourself for the workshop, increase your experiences during the workshop and implement what you have learned in everyday life.
Prerequisite for participation:
A certain amount of physical flexibility and fitness are prerequisites for participating in the Gay Kamasutra Workshop.
Answers to frequently asked Questions: